The 1950s were a transitional period during which society, still dominated by traditional values and lifestyles, gradually started to adopt modernity.
The changes that occurred at that time left deep impressions that survive to this very day. Major technical and scientific advances and increasing material comfort gave birth to the great faith in progress and a desire to sweep away the old world in order to live in a resolutely modern one.
With the return of optimism and full confidence in progress, a new trend emerged in graphics, design and architecture : ludic modernism.
This new style derived its origins form the modern movement of the inter-war period, but recreated its own language by inventing a fresh vocabulary and syntax, using dynamic forms and lively colours that were perfectly in tune with the cheerful spirit engendered by modernity.
International in scope, the style gave rise in Belgium to considerable,  though short-lived, enthusiasm in the years before and after de Universal Exhibition of 1958.
Compared to early modernism, which sought universality, ludic modernism set out to delight and please. Keen on the decorative aesthetic, it adopted its own formal repertoire, a truly personal vocabulary.
The style ventured joyfully into sinuous forms, like the boomerang and the bean pod, or the geometric curves of the parabola and hyperbola. It played with oblique lines, arranged in V's or zigzags, and stretched into fine or aerodynamic shapes. It took on bright, cheerful colours, and occasionally made a nod towards scientific progress, invoking the atoms and stars.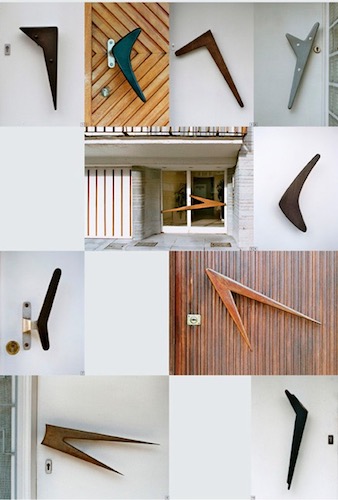 Ludic modernism gradually  disappeared in the course of the sixties. But, while the diagonal and dynamic silhouettes may have faded, the rounded form enjoyed a great flourishing. At a time when man was about to walk on the moon, a futuristic aesthetic of the flight cabin and the cockpit evolved. The modular units of facades in precast concrete or reinforced polyester became all the rage. With the development of plastic, it was possible to cast furniture in a single mould, giving the piece any desired shape and fully liberating it from the constraints of straight lines.